Make classroom management easier with these organization tips!
Classroom management begins even before the first student steps foot in your room. The way you organize your classroom can have a huge impact on how your days will go. Looking back on my first couple years of teaching, I can see that the way I had my room organized made certain parts of the day more difficult.
As the years went on, I became more intentional about my classroom set up and it really did make my days run more smoothly. Now I'm a firm believer that the organization of your space can have a big impact on classroom management. Read on to find out what worked for me!
1. Get rid of the clutter for better classroom management
Ok, I'm just going to preface this by saying that I don't like clutter, so that might be why I think it's so important to limit how much stuff you have out in your classroom. Here are a few ways is can make classroom management more difficult:
It can make kids feel less overwhelmed
When I walk into a classroom that's jam-packed with stuff, it's so overwhelming! I can only imagine that there are students who feel the same way.
Maybe they don't even recognize that the clutter is making them feel uncomfortable. After all, that's a difficult thing for a little one to make sense of. But when kids have a yucky feeling and they can't identify why they're feeling that way, they might start acting out.
It can help students stay focused on learning
Not only that, but imagine how distracting all that stuff can be. Imagine being a kid, sitting in your classroom trying to learn….and out of the corner of your eye, you see a stack of dinosaur counters sitting on on a shelf. Pretty soon, you're imagining playing with them and you're not paying any attention to what the teacher says.
It will save you from having to tell students "No"
Let's continue to pretend you're a kid who's been eyeing up the dinosaur counters. After waiting for what feels like an eternity, it's time to play. You head over to those dinosaur counters and grab them off the shelf. But your teacher stops you and says, "No, you can't play with those." How frustrating to have something you can't play with sitting right there in front of you!
Not only that, but having off-limits materials out where students can get at them just creates one more thing for you to monitor throughout the day. It becomes one more opportunity for a student to engage in unwanted behavior, but in this situation, it's totally avoidable.
That's why my suggestion is this: if you don't want your students to touch it, don't have it out where they can see it. There's no need to have every single book, manipulative, and supply out in the open. Find a place to store the things you don't use on a daily basis – and if you don't have storage space, get creative about hiding it like Lori over at the Kinder Lake blog did.
2. Simplify classroom management by strategically placing materials throughout the room
I used to have one bin that I kept everyone's headphones in. Their crayon boxes were kept on another shelf. Calendar binders on another shelf. Everything was grouped together, which, on the surface, seems logical…
But when you have 25 students all trying to get their headphones or crayon boxes at the same time, that becomes a problem. They either have to stand in line and wait their turn, which takes forever, or they start pushing and fighting to get to their materials. Talk about a classroom management nightmare!
Don't put all the crayon boxes in one place
A few years ago, I decided to start spreading things out. One of my favorite ways to store materials was by using 3-drawer carts like these: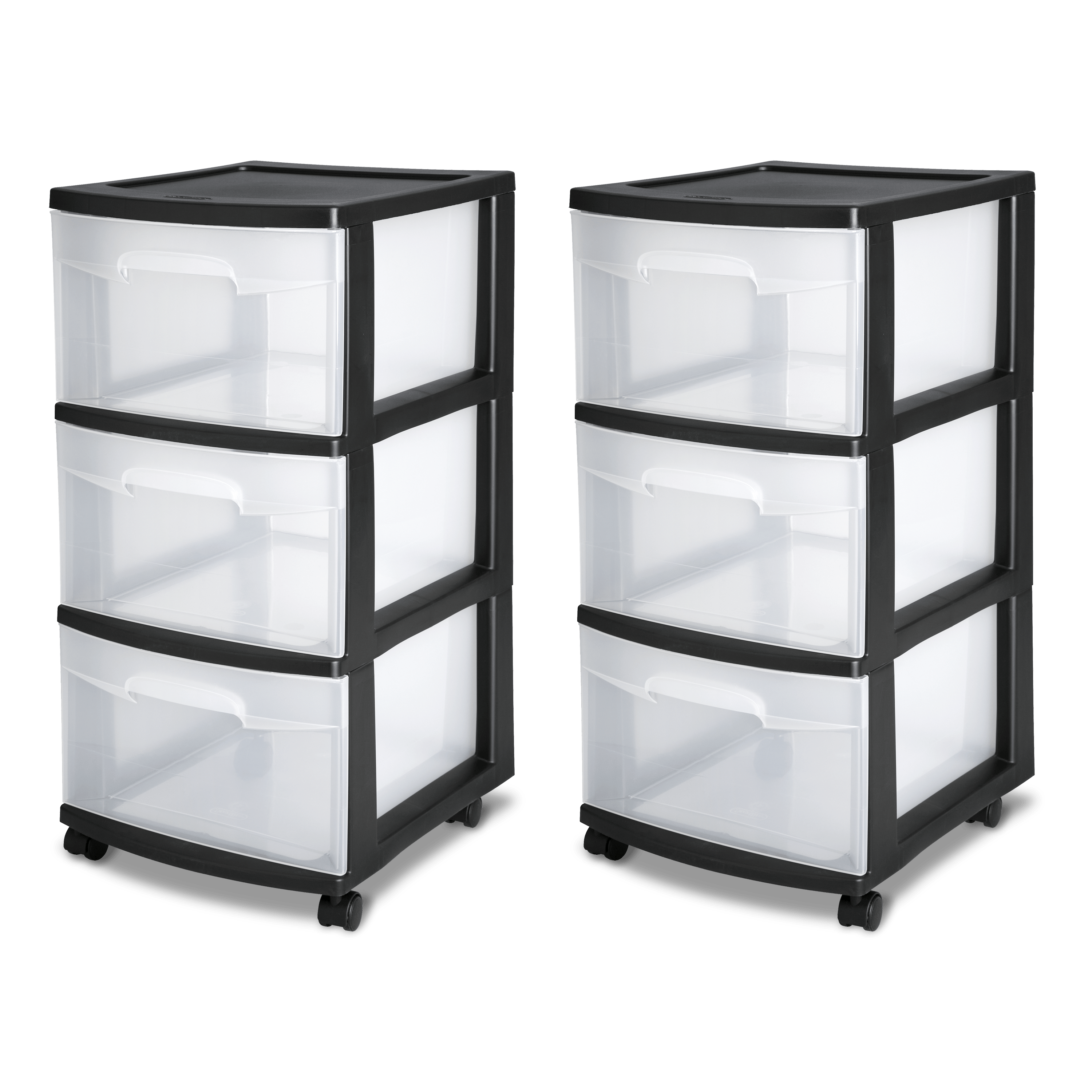 4-5 students would be assigned to a cart and I had them spread out throughout the room. I labeled each cart with their names using the self-adhesive name plate pockets from the Target Dollar Spot (which, by the way, always seem to be out of stock – did you know you can order them online from Michael's?!?!)
I also labeled each drawer using the square adhesive pockets (again, get them online at Michael's!). Their crayon boxes went in the top drawer, unfinished work went in the middle drawer, and headphones went in the bottom drawer.
That way, when I said, "Go get your crayon boxes," students would have to go to different areas in the room, avoiding the bottleneck. It saved so much time and the headache of trying to stop kids from arguing and pushing!
Of course, you don't have to use 3-drawer carts – that's just what happened to work for me. You could just use bins on different shelves in your room – the point is to have materials spread out instead of all in one place.
Think about traffic flow
When I set up my classroom last year, I spent a lot of time thinking about where kids would need to go to get their materials for independent work (math & literacy tubs).
I wanted to reduce the number of students who were in the same place at any given time. I also wanted to make sure students were able to get what they needed without getting in the way of someone else.
When you're setting up your centers, tubs, or independent work stations, make sure to ask yourself these questions:
Are the stations and/or materials spread out to avoid having too many students in one space?
Is everything for this station within reach?
Will students need to step over one another to get where they need to go?
Is there a clear path to the door for students who need to leave the room?
Can I see everyone from my desk and/or small group table?
That being said, don't be afraid to rearrange! Before students are in your classroom, it may seem like it will work perfectly. But once there are lots of little bodies in the room, you may find that things need to be adjusted. That's okay! It may take a little bit of reteaching, but I'm willing to bet that in the long run, it will make your days easier.
3. Classroom management is easier when students have access to the things they need
In my first couple years of teaching, I was guilty of trying to micro-manage all my supplies. Yes, it's possible to go overboard with your classroom management!
In those days, if students needed a new glue stick, they had to ask for one. Then I'd get frustrated that I'd have to go dig one out while I was in the middle of trying to do something else. If a pencil broke, I didn't have extras out so I'd have to drop what I was doing to sharpen it for a student.
I wasted a lot of time getting materials for students that I later learned could be put in a location that they could access independently. Here are a few ideas:
Put extra supplies in labeled drawers or bins
Fill up a drawer with extra glue sticks, slap a label on it and invite students to get a new one whenever they need it. Make it so they don't even have to ask (though I've found that 9 times out of 10, they still will).
The same goes for other materials that you think students will need. Extra scissors, glue bottles, erasers, etc. These labels by Cara Carroll are the ones I have – they're so cute!
Have "Please Sharpen" and "Ready to Write" pencil buckets
Back when I used to make my students ask me for everything, it never failed…in the middle of a lesson, somebody's pencil would break. Lots of times it was on purpose too. Then I'd have to stop the lesson and make the whole class wait while I sharpened the pencil.
Now, I have a bucket of sharpened pencils sitting out and a bucket for the broken ones. It's so convenient! Students know they can just go switch out their pencils. Yes, even in the middle of the lesson, because honestly, it's way less distracting than how I used to do it!
Here are some free labels from Simply in Second that would be perfect:
Make an Odds & Ends basket
Have a basket or bin set out where students can easily access it. Anytime someone finds a crayon, marker cover, Lego, or anything else, have them put it in the odds & ends basket.
Then, when a student is in the middle of their work and shouts, "I need a green crayon!" you can just say, "Check the odds & ends." You don't even need to stop what you're doing.
I started this 2 years ago and it was amazing how useful it was. Students could almost always find what they were looking for. And it was helpful for me too, because I could locate missing pieces from games and centers, among other things.
4. Have a teacher desk (make it your classroom management headquarters!)
This may be an unpopular opinion, because getting rid of your teacher desk is such a common thing these days – it seems like everyone is doing it. But hear me out…
My biggest thing argument is this: where do you put all your stuff? You know, all the stuff that you need as a teacher, but your students don't need? Like staples, paperclips, your secret stash of chocolate. Confidential paperwork like IEPs and documentation. Your computer.
All those things need a home, and if you don't have a desk, where do they end up? I guess my thoughts go back to the first item on this list: less clutter.
I'm all about building a classroom community where students can feel a sense of ownership, and that it's a shared space. But I do think teachers need (and deserve) a spot for their personal things and to do their work.
It might just be me, but when I don't have a designated space to do my work, I feel less focused. Constantly having to shuffle things around on, say, the guided reading table feels like a waste of time and energy. And in my humble opinion, classroom management is all about making things easier.
So consider your teacher desk your classroom management headquarters – the place where you can go consistently to get things done without taking up learning space in the rest of the room. I say, keep the teacher desk!
Stay tuned for the next post in the Classroom Management Series!
I have lots more ideas for classroom management – make sure you subscribe to the Little Playful Learners newsletter so you don't miss the rest of the posts in the series.Here's what you can look forward to:
Post #2: Creating an environment that encourages positive behavior
Post #3: Dealing with unwanted behavior
Post #4: Get your students to do more by saying less
Have other ideas or questions about classroom management? Comment below!